NECHEAR's General Clinic Services
FACT:  More than 35 million American adults have a hearing loss (www.nidcd.nih.gov)
FACT:  The effects of aging on hearing loss begins in your 30's! (www.nidcd.nih.gov)
So, if you feel like you are having difficulty hearing, make an appointment with us!
Comprehensive Audiological Services
initial history discussion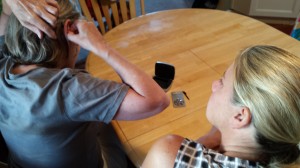 audiological assessment (hearing test)
amplification evaluation
assistive device recommendations
hearing aid fitting
cochlear implant candidacy assessment
cochlear implant mapping.
At your first visit, you will be asked to fill out some paperwork.  Come in early and have a cup of complimentary cup of coffee or tea while you fill it out.  If you are lucky, there may be treats as well. Help yourself!  Please remember to bring in your insurance card.
An audiological evaluation begins with a discussion, or interview.  You lead the discussion by telling us what difficulties you are having.   Take your time telling us.  That is what makes us different. This is the most important part of the visit.  If you are comfortable, spouses and family members are welcome to stay for any part of the visit.
Next, we will perform a hearing test.  Not just any hearing test, though.  You will hear the beeps that you might expect, but you will also listen to words, perhaps sentences, maybe listen in noise. This will be an individualized test, so what we do depends on what troubles you are having and what the testing shows us.  This can take awhile, so be prepared for your visit to take at least an hour.
An amplification assessment, sometimes called a hearing aid evaluation, might be recommended after we chit chat about the hearing test results.  During an amplification assessment, we talk about ALL the options available to you.  Hearing aids are not the same hearing aids that your grandmother or uncle had.  Really.  They are high fidelity, very individualized devices.  And they come in various shapes and sizes.
Sometimes, a hearing aid might not be recommended.  BUT, your hearing difficulties might be improved upon with something more specific.  For example, if you are having difficulty only hearing the world news on television, then a television device might be suitable.  Again, our audiologists will listen to your needs and discuss all possible options with you.
If you choose to be fit with a hearing aid, then you will come in for a hearing aid fitting.  The audiologist will use some fancy equipment to program the hearing aids.  But, the most important part of the process will be your answer to the following question:  How does it sound?  At this visit, you will also learn how to take care of your equipment.  Batteries, insertion (putting the hearing aid in your ear), cleaning, etc.  Fun stuff.
If you are a candidate and obtain a cochlear implant, or if you already have a cochlear implant, then you will require "maps", or tuning of your cochlear implant speech processor.  There are three companies that manufacturer cochlear implants and we can map all three.