CLASSROOM-BASED SERVICES
Classroom Listening Environment Assessment
Audiological/Communication Consultation
Assistive Listening Device Recommendation
Assistive Listening Device Management
CLINIC-BASED SERVICES
Educational Audiological Evaluation
Combined Audiological and Communication Evaluation
Device fitting and programming, including hearing aids, BAHA, cochlear implants, and FM
Classroom-Based Services
Classroom Listening Environment Assessment:  speech and noise levels within the classroom are measured, noise sources are identified, and recommendations are made to optimize the acoustic environment for students with hearing loss.
Classroom Observations:  the classrooms of students with hearing impairment will be observed and recommendations will be made to include the following:  optimal seating arrangement, instructional modifications, and classroom amplification systems.
Audiological/Communication Consultation: An educational audiologist or aural habilitation therapist will review records, evaluations, and classroom observations, to provide recommendations for the development of IEPs or 504 plans, and personnel support.
Assistive Listening Device Recommendation:  Assessment to determine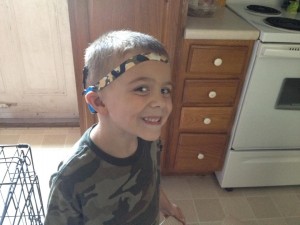 options for classroom assistive technology.
Assistive Listening Device  Management: In-school troubleshooting of student personal equipment and of school-purchased assistive devices, including earmold fabrication. Loaner devices are available as back-up equipment.  Trials with new assistive technology can be requested.
General in-service:  provide information regarding educating students with a hearing loss, discussion of devices educators may encounter, and general FM information
Individualized in-service:  provide specific device management, educational strategies and modifications for a particular student.  In-services can be adapted to the time frame available.

CLINIC-BASED SCHOOL SERVICES
Educational Audiological Evaluation:  hearing test, device (hearing aid/cochlear implant) testing, speech perception testing, and functional listening tasks.  Full report with implications for developing appropriate educational plans for student with hearing challenges.
Communication Evaluation:  A thorough Speech and Language Evaluation that addresses the unique needs and challenges of students with hearing impairment.  Evaluations include recommendations for educational placement and specific goals and objectives.
Combined Audiological Communication Evaluation:  A comprehensive Educational Audiological Evaluation and Auditory-Based Speech/Language Evaluation  designed to target areas critical for success in school.  Recommendations would be applicable for Triennial Evaluations or Annual Program Review.
Device programming sessions, including hearing aids, BAHAs, and cochlear implants, and FM.  We work with most hearing aid manufacturers, all BAHA and Cochlear Implant manufacturers, and all educational FM systems.